Every Thursday children are encouraged to bring in medals, certificates etc achieved outside of school for our 'Show and Tell Assembly 2018-19
Mr Farrell showed a video of his six new chicks, Grace presented her Boxing Award, Alicia her Tang So Do Medal, Megan her Swimming Certificate, Patrick was Gymnast of the Weekend, Lucia was Gymnast and Soccer Pupil of the Week, Joseph showed us his plastic bullet and Lucia did not show us her tooth that fell out because it fell down the sink!
Colleen and Joseph Gymnasts of the Week; Scarlett for Irish Dancing; Liam for Tang Too Do; Ryan with his Swimming Award; Kenny and Eabha for Show Jumping and Eden for Loosing her first tooth!
Ethan and Darragh Captain's of U10 Team that won the Ballymacnab Blitz, Colleen a distinction in Fiddle and Piano, Cliodhna for he upcoming appearance in Elf at the Market Place Theatre Armagh, Mia for Horse Riding – Cantering and Jumping, Grace for presenting her brothers Art Work, Senan for Boxing, Saoirse for her Unicorn, Conan for being Gymnast of the week and Ciara for being Gymnast of the week.  Super Work!!
Beau received a present from her Grandparents who had been on holiday, Eden had written her own story at home, Tiernan was Gymnast of the Week at our KS2 Gymnastics Club, Daire brought in two bullets, Caitlin was Gymnast of the Week at our KS1 Gymnastics Club, Caitlin for her Gymnastics Achievement, Kate for her Music Award and Lucy for having a new cousin.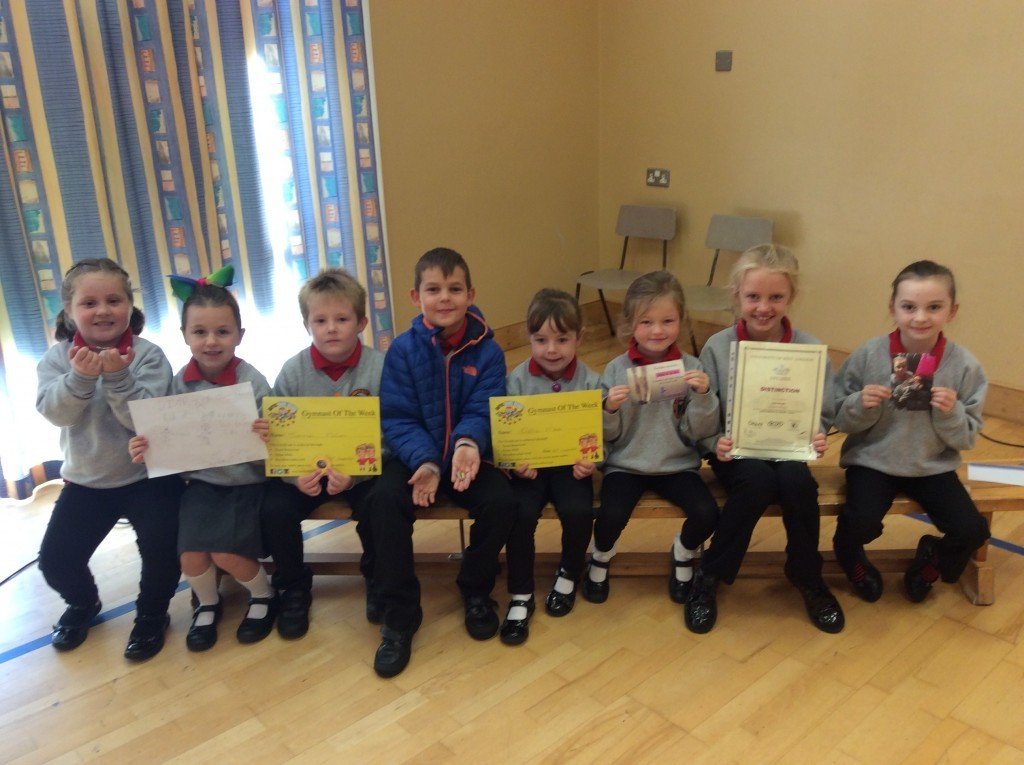 Philip for Show Jumping and Cantering, Shea Play of the Paddy McGrane Tournament, Matthew and Michael Sheild Winners for Donimine GAA Club Monaghan, Kerrie, Danielle and Mrs Hamilton for taking part in Eva's 5K Run, Beau for Cutting her hair for charity, Ryan for being a Top Fidget Spinner, Caitlin for Gymnastics, Finnian for the Cullyhanna Colour Run and Lucy for Burns Soccer Player of the Week!!!
Aoibhin and Emily completed the Cullyhanna Colour Run, Alecia and Grace walked the Carrick a Rede Rope Bridge, Kenny received a rosette for his Horse Riding, Larry attained his level 1 Swimming Certificate and Molly grew her own Corn on the Cob!!!
Great Derrynoose Run Participants
Ellen appeared on the front cover of the Orchard Gymnastics Magazine
Ronan, Thomas and Shea played at the St Peter's Competition – Shield Winners with Thomas being named player of the tournament 
Antoin won a cup for football, Jake found a fossil in Wexford, Ciara won a medal for dancing and Lucy got her next Lexia Certificate
Emily, Megan and Sorcha received Swimming Certificates
Congratulations to Lily on her New Belt for Tang Soo Do, Marc and Ryan for Soccer Success with Keady Academy and Aoibhin and Finnian for Swimming Success and Finnian for Lexia Success!!
Congratulations to Martin P4 who attended the Armagh GAA Open Day,  Daire P4 and Ben P2 on their Swimming Certificates and Daire P7, Josh P6 and Ben P2 on their Keady Academy Football Medals. 
Congratulations to Jamie P1 on his swimming success, Shane P4 pm his Scout Competition Success and Martin P4 on his Running Success!
Congratulations to Caitlin in P7 whose horse has won a recent competition!!
Congratulations to Emily P5 , Megan P3 and Sorcha P5 who have received certificates for swimming in their after school swimming lessons.

Congratulations to Ellen  P5 who won a gold medal for her gymnastics…
Congratulations to Kate P4 who achieved her dolphin 2 award…

Congratulations to Caoimhe P5 who won player of the week at the Burns Soccer Club..

Congratulations to Grace P3 who presented her scouts badges…

Congratulations to Laoise P7 whose dog won the James Curran Cup last week in Limerick.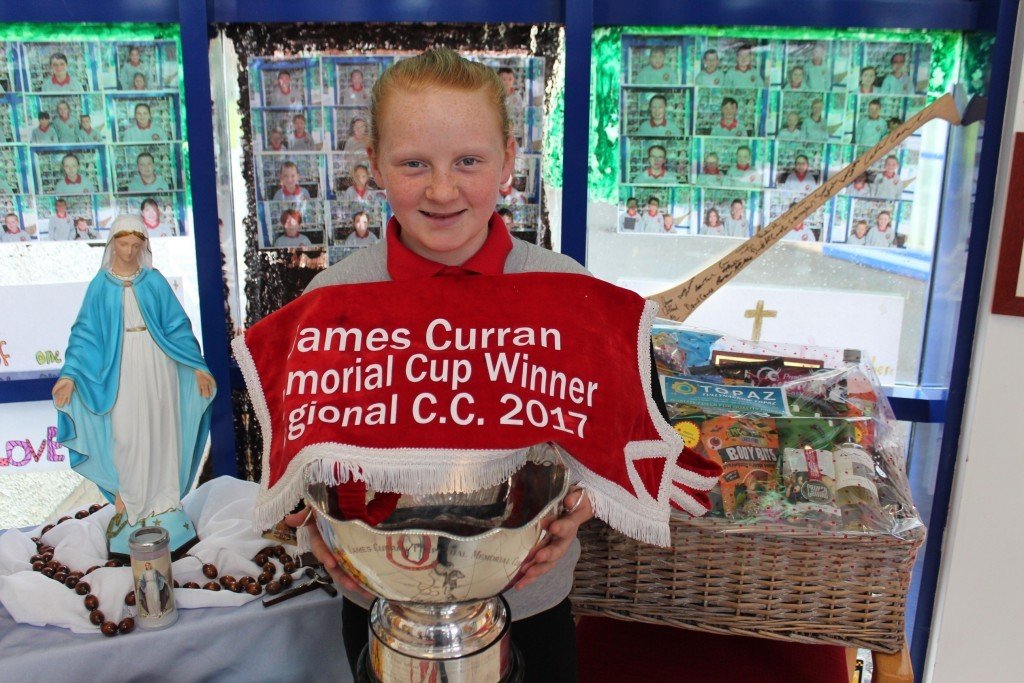 Congratulations to Ieuan and Ethan who competed at the NI Tae Kwan Do Championships in Bainbridge.  Ieuan came 1st in Sparing and 2nd in Patterns and Ethan came 1st in Patterns and 2nd in Sparing.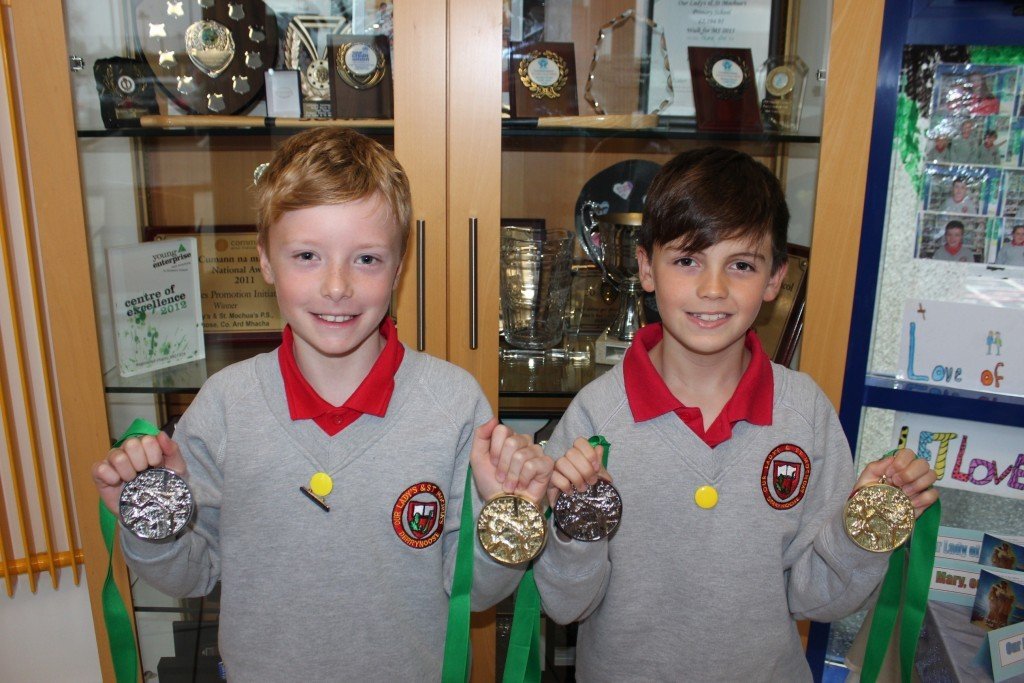 Congratulations to Lily who competed at the Tang Soo Do Dublin Tournament winning medals for Free Style and Forms.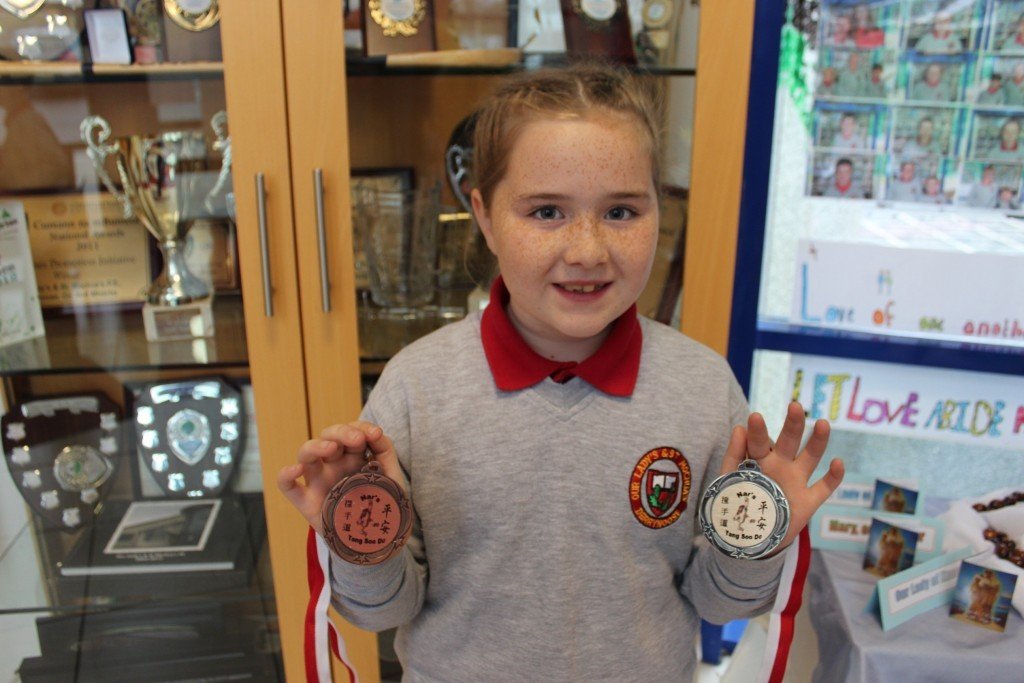 Congratulations to Alecia, Grace (very shy) and Daire who attended a special 10th Anniversary Tae Kwan Do Event in Monaghan!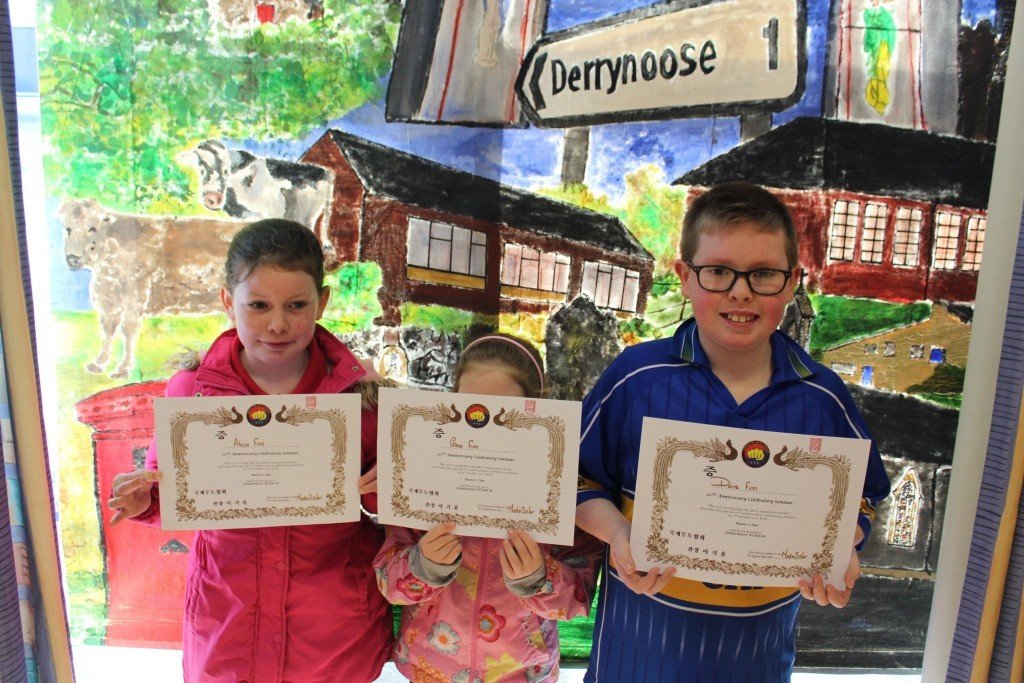 Congratulations to Shea and Antion on winning a medal for football.
Congratulations to Ellie who cut her hair to be sent to the Princess Trust so that wigs can be made for other boys and girls who through illness might loose their hair.  Ellie got a special changemaker sticker for her generosity!!
Congratulations to Martin who competed in the Carlingford Road.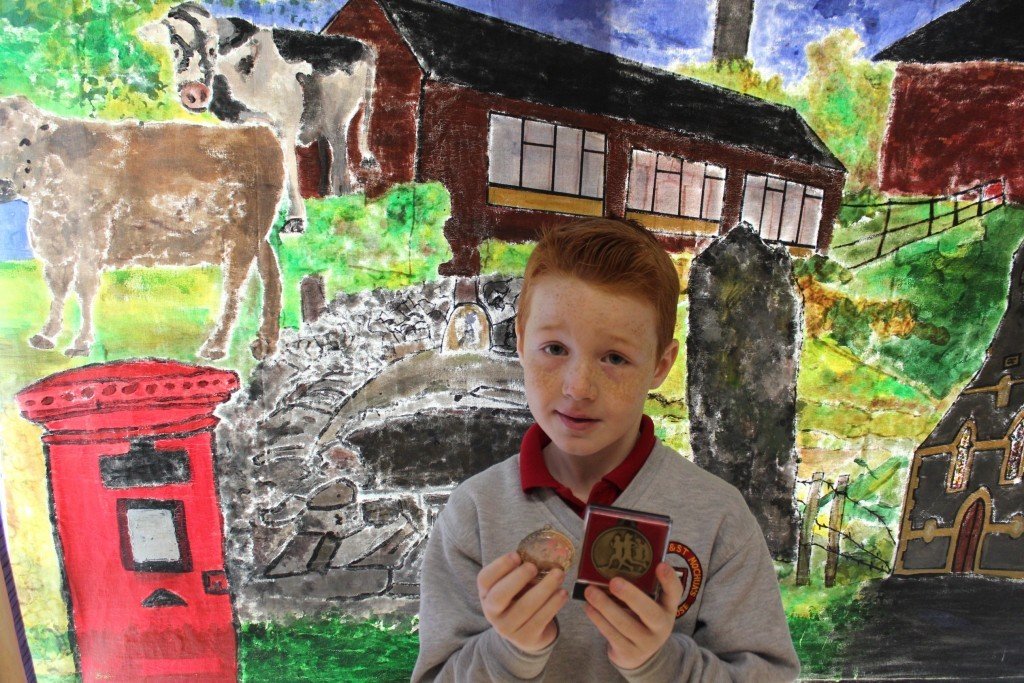 Congratulations to Frankie who won medals for football!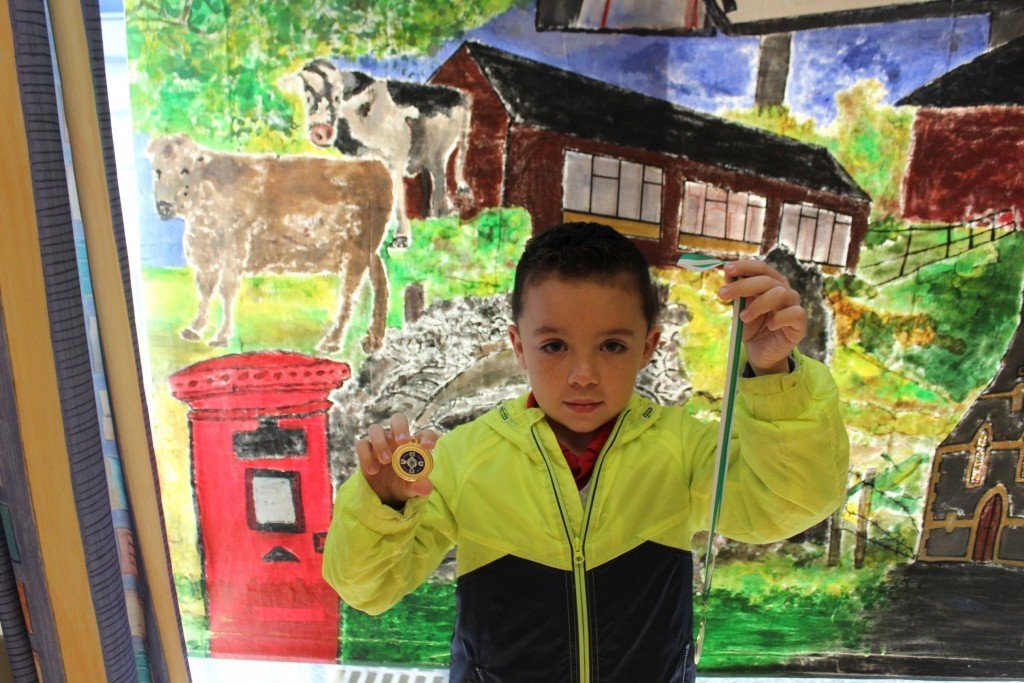 Congratulations to Charlie who got a football from Armagh Mid Fielder Stephen Sheridan.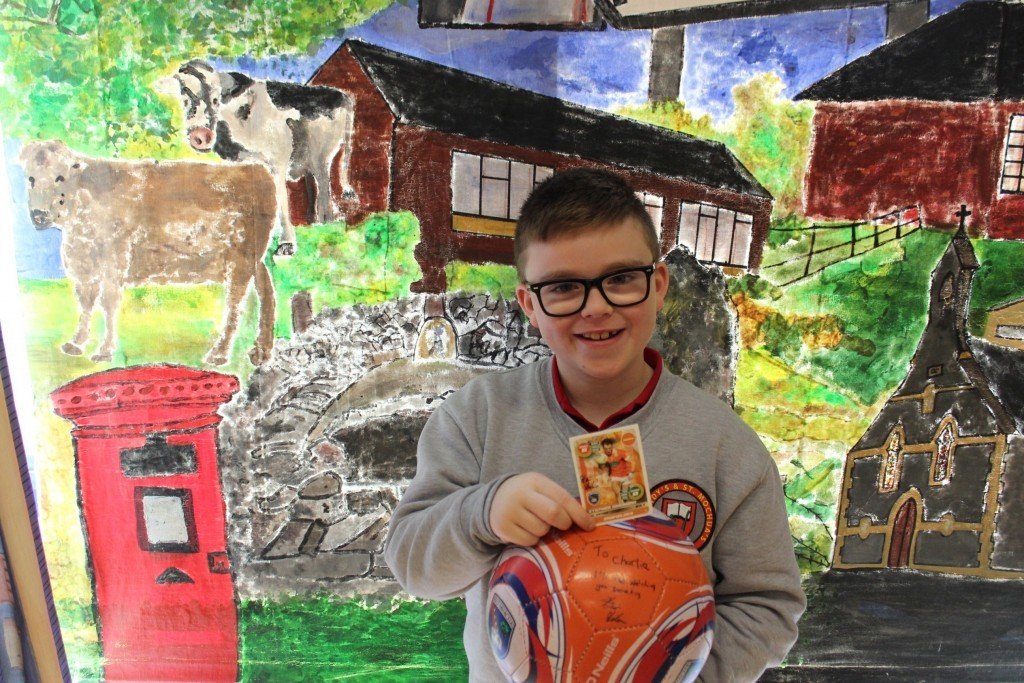 Congratulations to Shona on achieving her Karate Belt.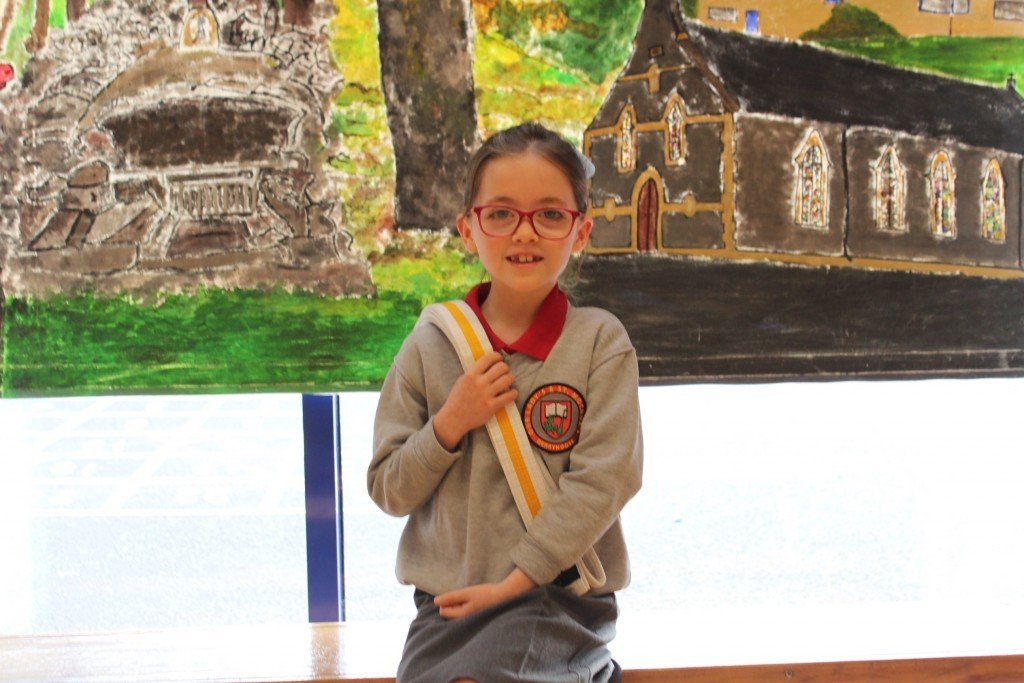 Congratulations to Caoimhe, Shea, Sean Og, Shea and Odhran who competed in the Paddy McGrane Cup winning both the Shield and Plate!  Super well done!!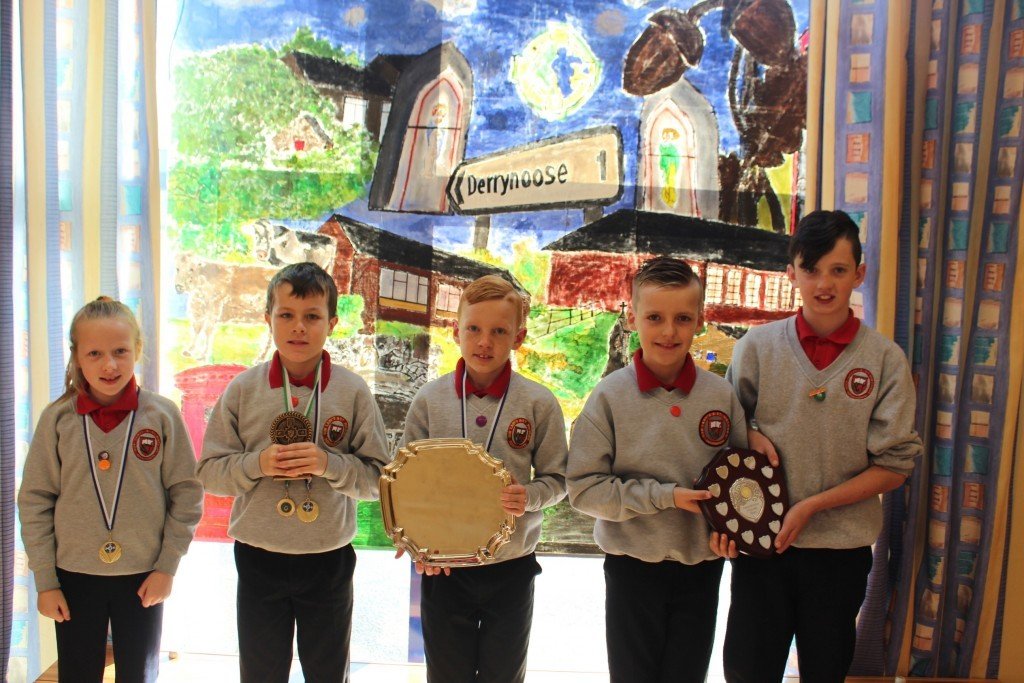 Congratulations to Daire P4 who competed in the Ballymacnab Blitz in Cullyhanna.  Great talent!!
Congratulations to Alex P4 on achieving his top grade in Music and Drama.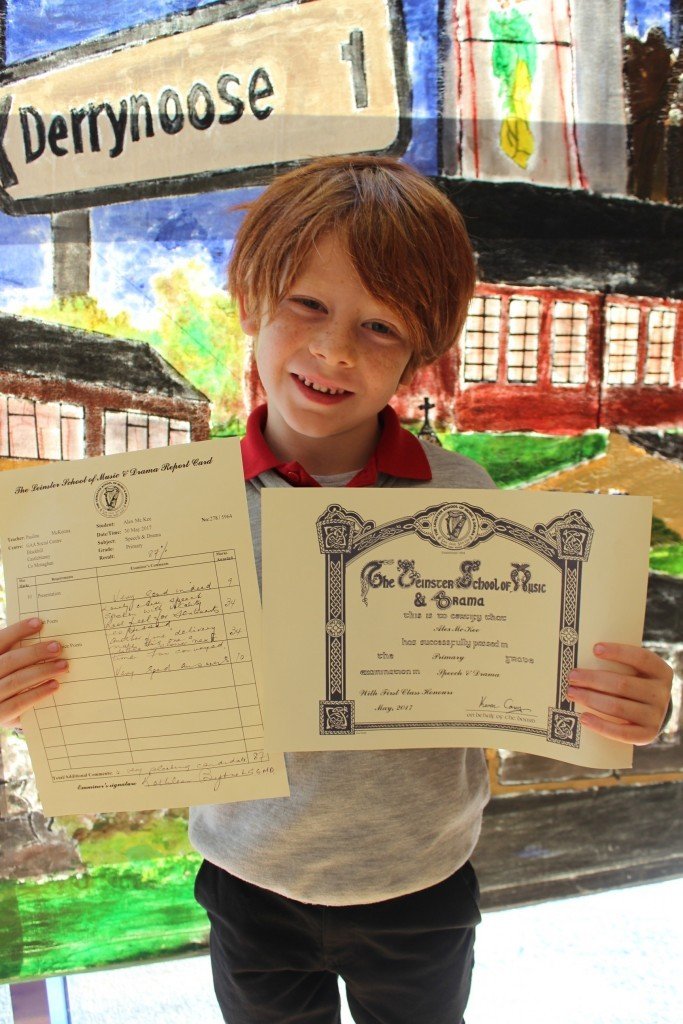 Aoibhin for camogie, Caoimhe for camogie, football & football, Josh for making his badge at scouts and Tara for tang soo do.  Well done to all!
Ben P6 Tang Soo Do;  Jesse Jane P7 Junior School's Sports Woman of the Year and Ben P4 Bravery Award
Iona P5 for winning the Swimming Gala Cup, Jack P3 Medal for Football and Molly P4 Trophy for Football.
Scarlett for Irish Dancing, Daniel for Completion of Literacy Work, Ben for Tang Soo Do, Martin for Swimming & Football and Amy for Swimming Success.
Dan, Sean Og and Lucy pictured with their recent Swimming Certificates.
Congratulations to Megan P2 on her Ballet Success!!  Super well done!!
Congratulations to Caitlin P6 on her Horse Riding Success!! Super well done!!
Congratulations to Caoimhe P4 on her Writing Success and participation in the Great Derrynoose Run!! Super well done!!