Derrynoose Drama Society Oct 10
Derrynoose Drama Society presented the school with a cheque for ¬£2000.00 in aid of school funds.¬† This money was raised through their very successful performance of 'ÄėMother Knows Best' at the Market Place Theatre Armagh.¬† The school is very shocked but most grateful for this kind and generous donation.¬† The money will be used to provide new resources for our new classroom.
 
Margaret Mone Sept 10
The school received a donation to school funds of £250.00 from the family of the late Margaret Mone RIP Mullyard.  The money was raised by the Nursing Staff on the Ward where Margaret worked at the Queen Elizabeth Hospital Birmingham.  The family felt that Margaret would have liked the school to benefit from the donation, for even though she had lived in Birmingham for many years her heart was always in Derrynoose.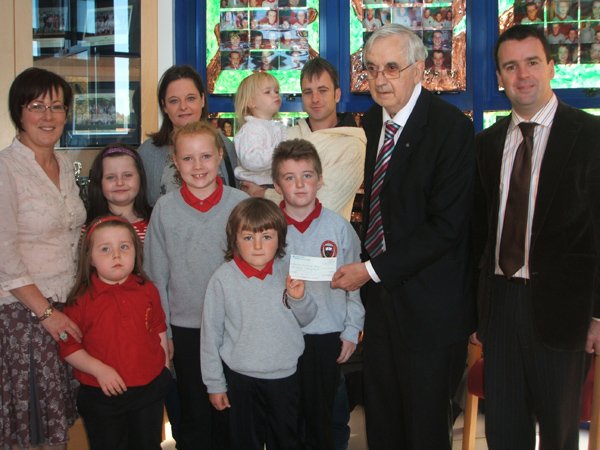 My Armagh GAA Draw Oct 10
A total of £1930 was raised via the My Armagh Draw with half the proceeds going towards the My Armagh Fund while the other half will be deducted from each families summer trip bill.  Congratulations to Jesse Jane McParland who was the top seller in our school and to Shea Murray P5 who won the jar of sweets in the draw for all sellers.  The jar of sweets had been won by Fr Rice, who kindly donated them to the school.  A special presentation was made to Denis Hollywood, Games Managerm Armagh County Board.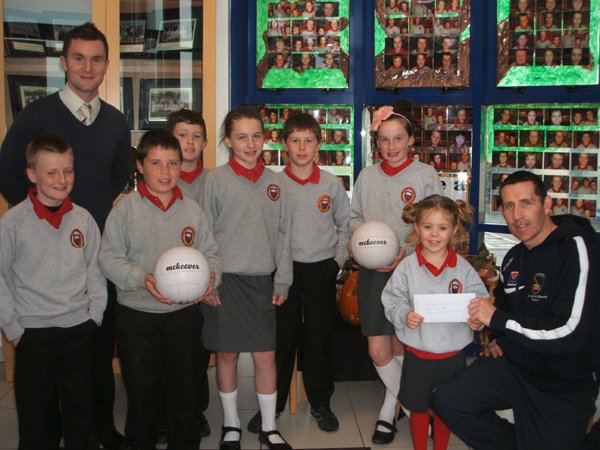 Christmas Charity Donations 2010
The money raised at the School's Foundation Stage and Key Stage One Christmas Nativity Performance and the Key Stage Two Carol Service was presented recently to our two nominated charities.  Firstly, Mrs Brenda Fox accepted a cheque for £750.00 for the Barber Ward at the Children's Hospital in the Royal Belfast.  Secondly, Mrs Doris Hamilton, Treasurer of Armagh Branch of the Northern Ireland Cancer Fund for Children, accepted a cheque for £250.00.  Many thanks to you all once again for your generosity.